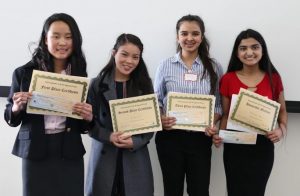 On Saturday, Feb. 17, the Speech Trek Committee and many wonderful volunteers, family and friends of the speakers gathered at Cosumnes River College and listened to eight high school students from the Elk Grove Unified School District speak to the topic:  How can we stand up to sexism?  What can individuals and organizations such as AAUW do to break down stereotypes and biases in school, at work, in the military, and in our communities?  
Dr. Virginia Kidd, Communications Professor Emeritus California State University, Sacramento; Kasmira Kit, a former Marine and creative entrepreneur; and Danielle Metzinger, a Learning and Development Specialist for CalSTRS, judged this year's contest.  AAUW member Kathleen Deaver served as timekeeper for the contest, and Morgan Glover, Past President of CSUS AAUW and current Tech Trek Co-Director, video-recorded all of the student speeches.  The Speech Trek Committee thanks Linda Patterson, Gloria Yost, Linda Sparks, Cherril Peabody, Barbara Sparks, Donna Holmes, and Vickie Nicholson for their help.
The winner of the 2018 Contest was Grace Tan from Laguna Creek High School, who took home the $500 prize.  The video recording of Grace Tan's speech has been uploaded to YouTube, AAUW CA Speech Trek Channel.  AAUW Sacramento pays a $25 entry fee to submit Grace Tan's winning speech to the State Semi-finals. In the picture above, the winners are, left to right:
Grace Tan–first place $500–Sophomore, Laguna Creek HS
Kathy Le–second place $250–Junior, Pleasant Grove HS
Simran Thandi–third place $100–Junior,  Sheldon HS
Harleen Kaur–honorable mention $50–Junior, Sheldon HS
Last year 15 branches from around California submitted entries.  The judges for the semi-final round view the videos of the branch entries and return their judging forms back to Marlene Cain, Speech Trek Coordinator for AAUW CA.  Five of the top speeches are selected; the 4th and 5th Place winners are named and awarded $250 and $100 respectively.  The top three speakers are invited to compete at the State Convention or Bi-Annual Meeting.
This year, the 2018 Finals will be held at Convention on Saturday, April 28 at the Marriott Irvine. The students and their chaperones will be feted at lunch when they will deliver their speeches to determine the 1st Place with a $1500 award, 2nd, with $1000 prize, and 3rd Place winner wins $500.   Those awards are made possible by the generous memorial donation by Mr. Gray Allen of Roseville for his late wife, Eleanor Stem Allen.  Eleanor Allen was an active member of Roseville/South Placer Branch of AAUW and a passionate supporter of the Speech Trek Program.
This year students from six of the district's nine secondary campuses competed.  Kathy Le from Pleasant Grove High won 2nd place and a $250 award. Simran Thandi, Sheldon High School, won 3rd Place and a $100 award.  Harleen Kaur from Sheldon High School won Honorable Mention with a $50 award.
The Speech Trek contest for 2019 will be planned for the third Saturday in February. The Speech Trek Committee provides speech contest workshops at all nine of the high schools in EGUSD.
The Committee is always looking for interested members who want to work with high school students. This mission-based program provides an opportunity to grades 9-12 girls and boys to practice an important life skill: to speak publicly about one's research and opinions on topics of gender equality.
For more information please contact:
Shari Beck, 916-451-5143, gsbeck@surewest.net
Ann Arneill, 916-668-7371, ann@arneill.com
Liz Jordan, 916-354-9608, lizjord@msn.com
Ellynrose Sheehan, cell 415-615-2099, ers1719@gmail.com