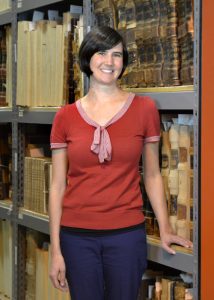 Sacramento AAUW members will be treated Saturday, March 30, to a behind-the-scenes look at archives dating back to the Gold Rush during an "An Introduction to the Center for Sacramento History."
The center is home to Sacramento AAUW branch archives. Several members have spent hours poring through minutes, yearbooks, newsletters and artifacts housed at the center in preparation for the branch's centennial celebration in 2020.
In addition to displaying some of our branch memorabilia, archivist Kim Hayden will lead a tour of the center and discuss its mission, resources, research opportunities and types of items accepted for archiving.
Branch members also will have an opportunity to share memories of their years in AAUW. Members are encouraged to bring photos, documents and memorabilia that might be donated to the branch archives or loaned to the branch for display at next year's centennial celebration.
Operated as a Sacramento city/county agency, the Center for Sacramento History is the repository for city and county government public records. It also houses manuscripts and personal papers of individuals, families, businesses, organizations and community groups related to the Sacramento region. Among its collection are photos, artifacts and oral histories, including those compiled by Sacramento AAUW over the past 100 years.
Hayden, a certified archivist, is a Sacramento Valley native with a master's degree in library and information science from San Jose State University. She worked at archives and libraries in the Bay Area before accepting the position in 2017 at the Center for Sacramento History, where she specializes in reference and government documents.
The March 30 meeting will be held from 10 a.m. to noon at the center, 551 Sequoia Pacific Blvd., north of downtown Sacramento off Richards Boulevard. Parking is available in the lot in front of the building and on the street.
The center does not charge for presentations or use of its facility, but it accepts donations and honorariums to help support its services. For the March 30 meeting, a $5 donation at the door is suggested.
Seating at the center is limited. Please register via Eventbrite (click link here), or email or call branch reservations coordinator Dawn Arnone Boyd.