The branch members gathered together at 10:00 a.m. at our meeting room at 2700 Fulton Avenue.  Ann Arneill, Speech Trek Co-Director, introduced Esther Turay, senior at Laguna Creek High School, who gave a reprise her winning speech on the topic of gun violence in our schools.  Esther's speech was much appreciated by attending members.
Current Co-President, Donna Holmes, served as the installing officer for the 2019-2020 Board.
The newly elected board are:
Co-Presidents – Liz Jordan and Charmen Goehring
President-Elect – Angela Scarlett
Program Directors – Cathy Locke and Karen Burley
Membership Director – Jan Stuter
AAUW Funds Directors – Kathy Asay and Merrie McLaughlin
Finance Director – Danielle Metzinger
Secretary – Tiffany Ardisana James
Nominating Committee – Becky Anton, Michele Hobza and Nancy McCabe
Co-President Liz Jordan provided some information about the branch's summer effort to get 500 people to try the newly improved, interactive, free, AAUW online course Work Smart.  The challenge was enthusiastically received, and a lively discussion ensued.  Please see the article in this new letter about the program and share it with everyone you know who could benefit from more self-confidence and better negotiation skills.
Kathy Assay, Funds Co-Director then introduced the 4 members who received 2018 Name Gift Honors: Jane Cooley, Susana Mullen, Kimberly Rutledge, and Anna Storey.  Details of their selection and accomplishments may be found in the Funds article.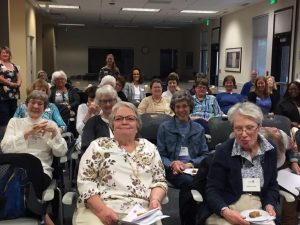 The May meeting is our traditional meeting to recognize members who have achieved 50 years of membership.  Donna Holmes, Co-President, told us about Jeanette Finn and Mary Gene Page who were unable to attend and introduced new 50-year member Georgia Richardson who traveled from Fort Bragg for the presentation.
An exciting celebration of the Sacramento Branch's first 100 years is being planned for February 29, 2020, at Northridge Country Club.  Gloria Yost, whose committee has been working hard on researching all of our accomplishments and activities, is also planning the luncheon party.  A reformed singing group, the Musettes will sing, a small committee is writing a skit about our 100 years, and we have invited Kim Churches, AAUW CEO, to attend and provide some vision of AAUW's future.
A small group discussion was the final activity of the meeting.  Cathy Locke and Deborah Dunn, Program Co-Directors, divided the attendees into small groups to discuss two questions.  Members had requested activities that allowed them to interact with members they may not know.  So, the first question was a round robin on confidence building:  Can you share 1-2 accomplishments, big or small, at any time of your life, at work or in personal life, of which you are most proud?  The second question concerned AAUW's national policy priorities for 2019-21.  The groups reported back, and the Program Committee is using the ideas generated to help plan meetings branch meetings of interest to the membership.