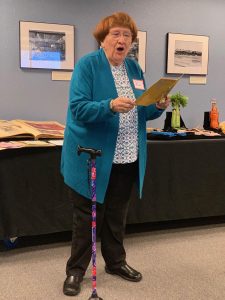 The first event I remember was a Christmas luncheon. I was initially invited by my friend Barbara Jennings Jones to join a group of women who were singing for the annual Christmas luncheon program. I joined the group and made a costume for the program. The group was well received, so we decided then to form a permanent group. Donna Bales became our director. We learned a variety of songs and decided on a name for the group. We became the "Musettes." We met in a room at the Westminster Presbyterian Church in Sacramento once a week.
The next singing event I participated in was when AAUW Sacramento Branch threw a Christmas party in 1970 entitled "White Christmas" in the Martinique Room at the Sacramento Inn. The Musettes sang for the occasion. We sang "A Ceremony of Carols" by Benjamin Britten, and we had a guest conductor, my husband Kenneth Brown. The harpist was Mary Lee Dozier, and Mrs. Ivan Wightman was our accompanist. At this point, there were 16 women in the Musettes.
In 1971, our branch Musettes sang for our state AAUW 50th Anniversary Banquet, which was held in Fresno. The title of the program was "Golden Treasures." There were six sections, one for each decade of AAUW. Each section had narration and music. The Musettes sang one or two songs in each section. The solos were done by Donna Bales singing "Camelot" and Jean Brown singing "Getting to Know You." Together Donna and Jean sang "God Bless America." The theme song was "California Here I Come." There were 13 women in Musettes at that time, and the State President was Anita Miller from the Sacramento Branch.
The Musettes also performed at the Crocker Art Gallery during this era. One performance featured two guest artists, Rich Speicher on the trumpet and Sue Lamb on the cello. Our accompanist was Lorraine Day. The second performance featured Sarah Wightman. Kenneth Brown was our guest conductor for both performances.
The Musettes continued to practice and learn new music. Then our director Donna Bales had to retire.
She had moved farther out in the county and we were practicing at the Presbyterian Church in the city. So Jean Brown became the director. We tried to stay together but family obligations were becoming heavy with growing children and families' duties. The group of the Musettes retired.
The Musettes learned a wide variety of music during this time. It varied from J. S. Bach, Mozart, Fran Schubert, Chopin, Shaker Hymns, Gershwin and Tom Springfield. We were well trained and gave well-received performances.
I enjoyed the time of learning and performing with the Musettes women. The women and the performances were true AAUW Treasures. God bless them all.