Novelist Jillian Cantor to speak at April Authors Event By Cathy Locke
Mark your calendars for Saturday, April 10, for Sacramento AAUW's annual "Authors
Luncheon" – minus the luncheon in this pandemic year. Jillian Cantor, the best-selling author of 11 novels for teens and adults, will speak to us via Zoom from her home in Arizona. The virtual event will be held from 12:30 p.m. to 2 p.m. and will include a Q & A session with the author.
Cantor is known for her works of historical fiction, including "The Lost Letter" and "In Another Time". Her latest novel, "Half Life", is scheduled for release March 23 by Harper Perennial. In "Half Life", Cantor juxtaposes the real life of physicist Marie Curie with the life Curie might have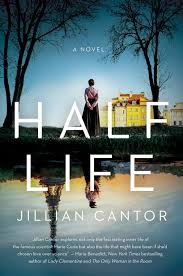 lived had she chosen to marry her first love and remain in her native Poland.  The novel explores how an alternative path might have affected Curie's life and the history of science.
This year's Authors Event is free of charge and members are encouraged to invite guests. Click here to register on Eventbrite.