AAUW Sacramento Funds Update By Charmen Goehring
Many thanks to those of you who send in regular gifts to AAUW to help our beloved organization advance our mission of gender equity. Making a regular monthly gift that is automatically withdrawn from your account is very easy to set up online. No more remembering to write the check! I love how easy it makes it to give on a regular basis, and it also allows AAUW to plan for the contributions.
I was talking the other day to an AAUW friend, who is on the state board, about the Legacy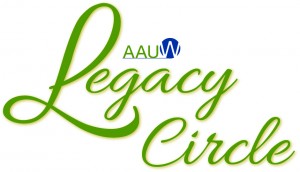 Circle. She revealed to me that she thought one needed to have a healthy bank account in order to become a member. I thought that if she has this assumption, others might as well. The answer is, no, you do not need to be well off to be a Legacy Circle member! A Legacy gift is not something you give during your lifetime — it is given by your estate. There are many ways to leave a gift, including making AAUW a beneficiary on an insurance policy or annuity (this is what I have done), donating a set sum or a percentage of your estate, creating a charitable gift annuity, or even creating a COD account at your bank (You deposit money now, either one time, or several deposits, and it is payable to AAUW upon your death). Knowing that I am a part of helping secure the future of AAUW, an organization that I have contributed my time and talents to for 28 years now, makes me feel proud.
I would love to welcome more AAUW Sacramento members to the Legacy Circle. Please reach out to me for more information! Or go right to the AAUW website to enroll!
Living Our Mission of Equity By Charmen Goehring
We invite you to join us in a monthly equity conversation looking at our own biases and what
actions we can take to attract diversity to our branch and become better people in the process. We are reading the book "Caste: The Origins of Our Discontents" by Isabel Wilkerson and discussing what we have read, along with exploring other issues related to race and equity. We meet the second Wednesday of each month from 7 to 8 p.m. on Zoom.
The Zoom meeting code is 737 420 3780 or you can join using this link:  https://us02web.zoom.us/j/7374203780.
We will discuss Part 3 on May 12 at 7 p.m. If you have questions and to RSVP, please email Charmen at charminme@yahoo.com.