Annual Holiday Luncheon at 11:30 a.m.  on Saturday, December 9. Reservations due by December 4.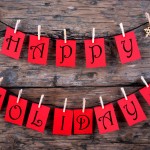 (Editor's Note:  Folks, as this newsletter is coming out when the reservations are essentially due,  if you were still deciding whether to come to the Holiday Luncheon, please register via Eventbrite immediately or contact Dawn Boyd immediately at 925-321-9946 to let her know that the check is on its way and your menu choice.)
Please join us for our always enjoyable holiday luncheon which will again be held at North Ridge Country Club. The setting is lovely, and you get to enjoy the program, Mothers of Invention, given by our member and renowned speaker Carolyn Martin. When Carolyn earned her M.A. in History from the University of Washington, women rarely appeared in her studies. She later took a Women's History class at CSUS and has continued to research and teach about women's contributions in many fields. Her presentation is both fun and enlightening-Did you know that a woman invented disposable diapers? Scotchguard? Permanent Press? Talk about necessity being the mother of invention!
Music will again be provided by our talented member Mary Williams.
The menu selections are Chicken Fusilli Pasta and Vegetarian Lasagna. A vegan meal is available by request. Included in the lunch are salad, bread, coffee, tea and crème brulee. Parking is free and there is a full no-host bar.
Click the button below to register and pay with Eventbrite (note that the cost on :
Click here to print the form if you wish to pay by check made payable to AAUW Sacramento. Mail to Dawn Boyd to her address in the directory.
Please bring new or gently used children's books for Love-Talk-Read. Reading to children greatly enhances their chances for success in life. This group donates books for children up to twelve years of age to numerous organizations both here and abroad. If you want to make your book donation go farther, you may want to check out Friends of the Sacramento Public Library Book Den. See their website for location and hours. They have a great selection!
We have approximately 230 members so let's aim for 230 books!
See you at lunch!