AAUW Funds & Legacy Circle By Charmen Goehring
October was a month full of AAUW Funds activities. Members in California enjoyed two online Funds events, previously the Funds Luncheons, each of which highlighted nine CA-based recipients of AAUW grants and fellowships. Their topics of study were diverse and fascinating!
While many missed the in-person opportunity to see friends and meet the recipients, dozens of
members who might not otherwise have attended a lunch in the past were able to participate on Zoom. It is always inspiring to see how our contributions have provided support for these young women, some of whom might change the world!
About a dozen AAUW Sacramento members answered the call to make a special donation to the Greatest Needs Fund prior to the Funds events and in appreciation, I delivered homemade scones and jam to the contributors to enjoy while they watched the Oct. 10 speakers. Thanks to these women, and all the previous donations our generous members have made this past fiscal year, we have made our 5 Star Branch goal of a minimum of $30 per member. Thank you for supporting AAUW and our mission of equity for women and girls!!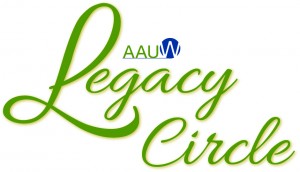 We have just a few weeks left for the California Is In It To Win It Legacy Circle contest! The branch that adds the most new Legacy Circle members during the contest period will win a special Zoom session with AAUW Development Director Heather Miller, AAUW CA State President Dianne Owens, AAUW CA Funds Chair Judy Cavin Brown and other possible special guests.
The Legacy Circle is composed of dedicated AAUW members who have included AAUW in their estates in order to ensure the organization is healthy and able to help women and girls far into the future. If you have been a member of AAUW for 30 years or more, you are passionate about AAUW. Why not take the simple step of joining the Legacy Circle? You can join online at www.aauw.org or contact me for a brochure.
AAUW Sacramento member Hedda Smithson recently made the decision to commit to supporting AAUW by joining the esteemed group. She joins Marty McKnew, Kathy Asay, Alicia Hetman, and me. I look forward to awarding more AAUW Sacramento members with their special Legacy Circle Pin!