Branch Holiday Party – Online Edition by Kim Rutledge
As the COVID-19 pandemic continues to upend our lives, the AAUW Sacramento Branch Program Committee continues to find new, creative ways of upholding our branch's time-honored traditions. The pandemic will keep us from celebrating the holiday season with a luncheon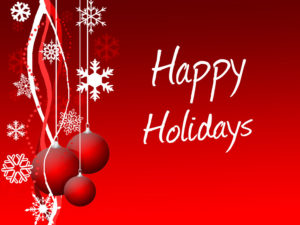 at the Northridge Country Club this year, but it will not keep us from gathering online for a festive celebration.
On Dec. 12 from 10 to 11:30 a.m., grab a mug of cider, put on your favorite ugly holiday sweater and join us on Zoom for the AAUW Sacramento Branch Holiday Party – Online Edition. Our guest speakers will be three local women artists – visual artist Franceska Gamez (http://www.franceskagamez.com), jewelry designer and metalworker Omonivie Okhade  (https://www.tulainbloom.com), and abstract painter Caiti Chan (http://www.caitichan.com). The women will each give a brief presentation on their work and experiences in the Sacramento art scene. We will also enjoy holiday music by the California State University, Sacramento, Clarinet Quartet.
To keep things fun, festive, and interactive, we will hold an ugly holiday sweater contest – judged by our artist guests. Prizes will be awarded to the three branch members with the tackiest sweaters. There will also be time for virtual socializing at the end of the program.
To join in the holiday fun, please sign up at Eventbrite by clicking here. We look forward to celebrating this unusual holiday season with you all.