Interest Groups… and the Value of AAUW Membership By Vicki Nicholson
AAUW National is once again asking members to consider eliminating a degree requirement for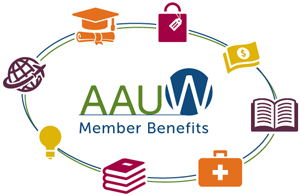 membership, a bylaws change which will be subject to vote by the entire membership in April, 2021.
Most often individuals join an organization because of personal invitation. Some members join to support AAUW's mission. I joined soon after college because I proudly COULD support an organization that promoted education and equity.  But, regardless of the motivation to join, most of our branch members retain membership because of friendships and bonds created when working toward shared goals.
"It is who you know" matters in social as well as business relationships.  Make an effort to get involved in at least one interest or book group or perhaps even widen your circle during this period of restricted contacts. Connections are important and will strengthen a sense of well-being.
Interest group leaders may opt to utilize Sacramento Branch's paid Zoom account for meetings. Contact Karen Burley for details or assistance. Contact information for Karen or Vicki can be found in the Sacramento Branch Membership Directory & Handbook. Direct any other queries to sacramento-ca@aauw.net.