President's Message By Angela Scarlett
It's hard to believe, but 2021 is nearly upon us, along with a new U.S. president. Many of our members were disappointed when Hillary Clinton lost the presidential election in 2016. I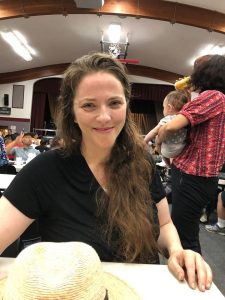 remember hearing grim assessments about members living to see a woman elected to the highest office our country has to offer.
Sen. Kamala Harris winning the vice-presidency on President-Elect Biden's ticket was an essential step in the right direction. As a BIPOC woman of mixed Jamaican and Indian ancestry, Sen. Harris uniquely represents the evolving and vibrant, multicultural reality America has always been.
But more has been happening at the local level. On Dec. 15, 2020, the Sacramento County Board of Supervisors unanimously approved the Sacramento County Commission on the Status of Women and Girls. In July 2019, a Blue Ribbon Commission (BRC) convened to research the merits of a Sacramento County Women's Commission. AAUW, especially our sister branch CHAR, has been an instrumental part of helping the BOS better understand both the challenges and opportunities women face in Sacramento County. To see the report go to:  https://drive.google.com/file/d/1XNNiwrIsrpanz52xcEPrFZNnBnZ6inVs/view  or view it on Facebook: https://www.facebook.com/sacwomengirls .
Three members of the AAUW Sacramento community have served on the Blue Ribbon Commission: Charmen Goehring (a joint member of Sacramento and CHAR), Marty McKnew and Danielle Metzinger. Charmen has been an AAUW member for 28 years, serving on boards and committees at the branch, state, and national levels. Charmen feels our branch's support and work toward establishing a Sacramento County Commission on the Status of Women and Girls has helped elevate AAUW's profile in Sacramento. It also put our values into action and may serve as a vehicle for future community work by establishing the Friends of the Commission organization.
Like Charmen, Marty has served in AAUW at several branches and the state, including two stints as president of AAUW Sacramento. Marty, along with fellow co-president Donna Holmes, initiated fundraising for our 100th Anniversary Research and Projects grant.
Danielle has been active in AAUW for several years, serving as a Funds co-director and on the scholarship committee. Danielle innovated our scholarship process and has helped on the board in other capacities. Here are Danielle's comments on her work on the Blue Ribbon Commission: I got involved with the Blue Ribbon Commission when they were still a grassroots group called Sacramento for Women and Girls. I attended their forum held on International Women's Day in 2019 (thanks to AAUW Sacramento announcing the event) and started attending meetings with the grassroots group. I facilitated a Listening Circle in May 2019 to contribute to their work. When the Blue Ribbon Commission was officially established in July 2019 I was appointed as a commissioner as well as a co-chair for the ad hoc advisory committee on women's commission models. The Blue Ribbon Commission brought together Sacramento County advocates and activists from all walks of life, including women who are executive directors at women-serving organizations, community leaders, educators, legal professionals and members of the community who wanted to contribute. Through the ad hoc committee, I facilitated research on existing women's commissions in California and beyond and incorporated the findings into the final report for the county Board of Supervisors. It's been incredible to be part of this work for nearly two years and see firsthand how a women's commission will be a valuable space and resource for advocates for women and girls.