Membership Update By Donna Holmes & Marty McKnew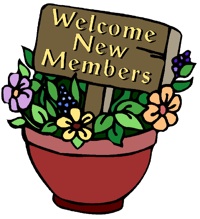 Hope everyone's new year is off to a great start!  We want to introduce three new members:
Samantha Fischer, a former Tech Trek camper who volunteered at the Fresno camp for five years prior to COVID.  She also volunteered with the San Francisco Branch when she lived there.  Samantha lives in zip code 95826 and may be emailed at srosef@ymail.com.
Pamela Harder, with a background in social work who lives in zip code 95835 and may be emailed at pah29@sbcglobal.net.  Pamela is interested in Great Decisions II and Healthy Heart.
Kathie Huff, who joined after coming to our new members get-together.  Kathie is a retired resource specialist and special education teacher.  Kathie lives in zip code 95822 and may be emailed at kathiehuff@gmail.com.  Kathie is interested in Art & Architecture, Film Fans, Singles Dining Out and Travel.
Please join us in giving them a warm welcome to our branch!
The Branch received a note of thanks from Celeste Roseberry-Mckibbin for the children's books we donated at the Winter Luncheon. The books were given to a local Head Start in a high poverty area of Citrus Heights.
On a sad note, Anita Miller, Past National, International, State and Branch President passed away on Dec. 29, 2022.  Glee Scully, her long-time friend and 50-year member, has advised us Anita's family would like donations given to National 9110 Fund in her memory. Here is the obituary:  https://www.eastlawn.com/obituary/anita-mae-miller/
Celebrating February Birthdays! By Donna Holmes
Happy Birthday to All!
Anna Storey                                    2/1
Kathleen Deaver                            2/2
Arlene Cullum                                2/4
Kathie Huff                                     2/4
Margaret Ann Dukleth                  2/7
Susan Whetstone                          2/9
Barbara Puett                                2/10

Jane Cooley                                    2/14

Nancy Fox                                       2/16
Ann Louise Kinnison                     2/21
Linda Howard                                2/22
Jean Brown                                     2/24
Carol Finney                                   2/25
Inger Lindholm                              2/26
Karen W. Smith                              2/26