April Author's Event to Feature San Diego Author's Coming-of-Age Memoir By Kim Rutledge
Please join the AAUW Sacramento Branch for our annual Author's Event on Saturday, April 9 at 11 a.m. via Zoom. This year's featured author is Jennifer Gasner, author of the forthcoming memoir, "Walking is Overrated."
At 17, Jennifer was diagnosed with Friedreich's Ataxia, a rare, progressive, neuromuscular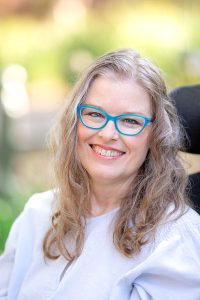 disease. After the initial shock and denial wore off, she realized that her life was going to be full of joy. Her determination and sense of humor helped her meet the challenges she faced going from walking independently to using a walker, and eventually, a wheelchair.
She attended college at her home state's University of Wisconsin-Platteville where she received her BA in English. She was involved in the Student Activities Board and campus radio station, where she honed her love for music. She then went on to Western Illinois University for her MS in recreation.
After college, she began working with Independent Living Centers in Wisconsin and advocating for people with disabilities and learning about disability culture. She moved to San Diego by herself when she was 28, where she worked for various non-profits and UC San Diego.
In 2020, she became an Ambassador for the Friedreich's Ataxia Research Alliance, (FARA), advocating for research and bringing awareness of FA to the community. As a result, she participated in Rare Across America, meeting with legislators to discuss current legislation affecting more than 25 million Americans living with one or more rare diseases.
She is a member of the San Diego Memoir Writers Association and was Member of the Month in February 2020. Her short story, "Diagnosis," was selected for publication in "Shaking the Tree Vol III," which is available for purchase on Amazon. She is currently writing a coming-of-age memoir with the working title, "Walking is Overrated." Besides writing, in her free time she loves doing yoga, going to movies, and travelling. She lives in San Diego with her boyfriend Gregory and their two dogs, Wyatt and Ki.
Jennifer will read her story "Diagnosis" at the AAUW Author's Event and discuss her literary journey.  We will start the event with a brief business meeting and the presentation of the slate of officers for the 2022-23 Branch year. Please register to attend via Eventbrite here. You will be sent the Zoom link two days before the event.