Named Gift Honorees By Charmen Goehring
Congratulations to Karen Burley and Kim Rutledge for being our special Named Gift Awardees! Each year, AAUW allows a branch to "name" part of the branch Funds monies in honor of a member who has demonstrated exemplary service to the branch.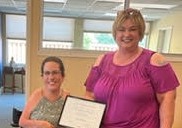 As the COVID-19 pandemic wears on, Kim had the continuing challenge of creating programs that would be of interest to members whether in person or online. With ever changing virus transmission rates, she and her committee had to pivot their planning to provide programming that kept us all safe. With just two in-person events, members likely missed the social interaction, but we were still treated to quality programs each month that represented AAUW's mission. Kudos, Kim!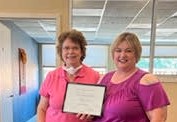 Staying connected is important at any time but especially during an ongoing pandemic! Karen successfully leveraged technology to keep us informed via the newsletter, signed up thanks to EventBrite and connected on Zoom! As this pandemic lingers, I have no doubt that Karen will continue to learn new ways to help keep us connected to one another! Thank you, Karen!
Thank you to all branch members who contributed to the AAUW Funds this year! AAUW Sacramento sent in more than $13,000 in donations and landed in the top 10 spot for per capita giving in California!!