Authors Luncheon April Program By Angela Scarlett
Our Authors Luncheon will be a shared event with CHAR. Here are the details on the Authors Luncheon coming up soon:
Date: Saturday, April 29, 2023, 11a.m.-2 p.m.,
Location: North Ridge Country Club, 7600 Madison Ave., Fair Oaks
Menu: Choice of Chicken Marsala with roasted potatoes and grilled vegetables or Pasta Primavera with marinara sauce and grilled vegetables. Choice of Limoncello Cake or Fruit Cup. Bread. Coffee, iced tea, hot tea and water.
Reservations: Price $30. Checks made payable to AAUW CHAR or electronic payment accepted. AAUW Sacramento Branch reservations should be sent to Charmen Goehring (address in directory). Members may also send payment and RSVP via Venmo to @Charmen-Goehring (send it as "personal"). RESERVATIONS DUE BY APRIL 19. PLEASE INDICATE MENU CHOICE in "memo" section of check.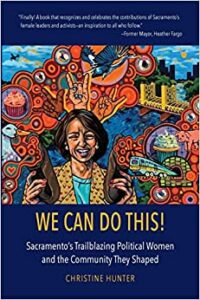 Hear local author Christine Hunter talk about the women and stories she encountered when writing her recent book, "We Can Do This!: Sacramento's Trailblazing Political Women and the Community They Shaped".
Chris is a former Sacramento City Planning Commission member and volunteer lobbyist. She has worked on many political campaigns. In her book, she took a deep dive into the women serving Sacramento from 1972 to 2014. Her book is available on Amazon if you want to read it before our lunch date. We may even have a special guest joining Chris to further add to the discussion.