Authors Luncheon THIS SATURDAY! By Angela Scarlett
Reminder about the Authors Luncheon:
Date: Saturday, April 29, 2023, 11a.m.-2 p.m. THIS SATURDAY!!!
Location: North Ridge Country Club, 7600 Madison Ave., Fair Oaks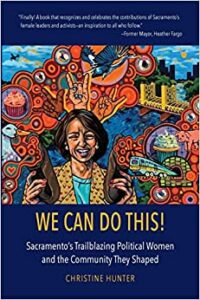 Menu:  Chicken Marsala with roasted potatoes and grilled vegetables or Pasta Primavera with marinara sauce and grilled vegetables. Choice of Limoncello Cake or Fruit Cup. Bread. Coffee, iced tea, hot tea and water.
Reservations: RESERVATIONS WERE DUE APRIL 19. Contact Charmen Goehring if you have any questions.
We will hear local author Christine Hunter talk about the women and stories she encountered when writing her recent book, "We Can Do This!: Sacramento's Trailblazing Political Women and the Community They Shaped".