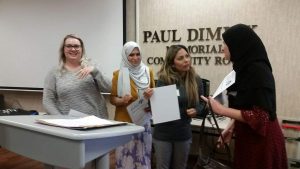 Fall Program Lineup Adapts to Times With Virtual Format By Kim Rutledge and Gloria Yost
We enter the AAUW Sacramento branch program year for 2020-21 in truly unprecedented times. The way we live has been turned upside down by the global pandemic, but as your new program directors, we are committed to bringing our branch membership a robust array of programs in a virtual format.
The branch program year starts on Saturday, September 12, with the virtual AAUW Showcase from 10 am to Noon. Like always, the Showcase will highlight membership, interest groups, outreach programs, and our scholarship winners, but this year we will hold the Showcase on Zoom. Invite a friend who may be interested in joining our branch and log on to Zoom to learn what the coming year has in store. Registration information for this free event is available here. A Zoom link will be emailed to all registered members 2 days prior to the event. Please mark you calendars! This event is open to the public, so people who join on the 12th can join at a reduced rate.
Our October and November events will also be held virtually over Zoom. In October, our branch will partner with CHAR for a ballot proposition presentation from the McGeorge Law School students. November's program will highlight the California Women's Well-Being Index with the California Budget and Policy Center. We will also discuss the results of the November general election and their impact on women.
As we look to December and beyond, we will assess whether or not we can return to monthly in-person branch events. Regardless of where we do our programming for the coming year, we promise to bring timely, compelling monthly programs to branch members. We look forward to seeing you on Zoom in September!