Medical Internship In Cusco, Peru By Tiffiny Joseph
Introduction by Gloria Yost: Tiffiny Joseph, one of our November speakers, is a past scholarship winner and one of our NCCWSL (National Conference for College Women Student Leaders) attendees.  She has expressed her great appreciation for the financial support given to her by various branch members.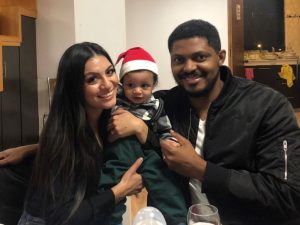 Tiffiny's article: After a long day's travel with my husband and 5-month-old son, we made it to Cusco, Peru. We were visiting for three weeks so that I could complete a medical internship at a clinic in the heart of the city.
I am an aspiring doctor, a non-traditional student studying at the University of California, Davis, majoring in neurobiology, physiology and behavior. I will be applying for medical school this upcoming 2022-2023 cycle. A big part of the application is writing about experiences that have been significant to the candidate in affirming their path to medicine and preparing them for the challenges that come with medical school. Due to the pandemic, finding clinical experiences had been discouragingly difficult. Many of my applications were rejected, even the ones for the student-run clinic at UCD upon which I was relying for this necessary experience.
Understandably, most clinics could not welcome extra bodies who were not staff already. I was desperate. I needed to prove that the medical field is where I belong.
My husband found a medical internship program opportunity, but we were hesitant because of the investment. I was an AAUW scholarship recipient and NCCWSL attendee so thought to ask for some support from the members of AAUW through a GoFundMe page. Fortunately, with support from members of AAUW, we were able to go.
It was the first day of my internship, I was nervous. I was instructed not to be shy.  Since I speak Spanish, I had an advantage over some of the other volunteers attending since they did not speak Spanish.
The program directors told me that I would get out of the experience what I put into it. I left my child and husband at the home of our host family and took a taxi to meet the people with whom I would be working for the next three weeks.
I was greeted by a man who was flustered. He urged me to hurry, no real official introduction,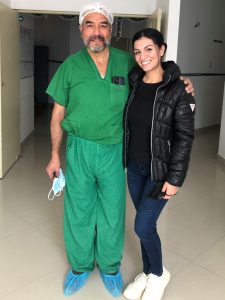 just urgency. I followed him quickly. He told me to get dressed, put on a head cap, booties and scrubs. I did so as fast as I could. Once ready, I met him outside the changing area. He had a disappointed expression and informed me that I had missed a cesarean operation by just moments but that, fortunately, there was another surgery going on that I could watch.
Surgery? Really? I was excited. To be honest, I had never seen one. He brought me to the second "sala" (room). In this surgical unit, there were about four to five doctors operating on a patient, performing a hip surgery. I felt an adrenaline rush. This was an important moment that I will never forget. I could prepare, but until I actually experienced this event, I could not be certain how I would feel or respond.
They were sawing and removing pieces of bone. Interestingly enough, "Suavemente" was playing in the background, a song that I had grown up listening to and every Peruvian family plays during family functions. It was surreal. Later, when sharing this experience with a friend, she offered some insight for me to consider.  She suggested that this song that felt like home to me, was my family sending me comfort and telling me they were proud of me in that moment.
This experience was a gift. One that I will cherish forever. I continued to watch more than a dozen surgeries over the next three weeks.  Every day, I learned more and more. I was even able to assist surgeons in small ways, such as helping them to tie their gowns or passing more gauze as needed. I continued to feel that same initial enthusiasm.  This experience confirms for me that medicine is where I belong.