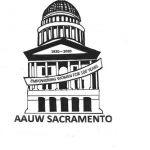 On Feb. 29, we will celebrate the 100th birthday of Sacramento Branch with a luncheon event at Northridge Country Club that will include entertainment, music, and special guests. We will also hear from AAUW CEO Kimberly Churches, who is joining us that day.
In November 2012, under the guidance of our then co-presidents, Donna Holmes and Marty McKnew, we started the fundraising campaign to raise $75,000, to establish a Sacramento Branch Research and Projects Grant. We have completed that grant enough ahead of time that the first recipient was awarded her Sacramento Branch Research and Projects grant this past fall.
Ruth Burgess called together a few members to begin envisioning our 100th celebration, and in January 2018 our steering committee began implementing that vision. We have been meeting regularly, planning our event, doing research at the Center for Sacramento History where the Branch materials are archived, and publishing monthly articles about our history, which we hope you have all enjoyed. This history has been compiled into a commemorative book, a copy of which will be included in members' lunch reservations. Additional copies will be available for purchase.
Reservations are due by Wednesday, Feb. 19. Click here to print the reservation form if you wish to pay by check made payable to AAUW Sacramento. Mail to Cathy Locke – her address is available in the directory – or go here to register and pay by credit card on Eventbite.
We are hoping for a great turn out and encourage everyone to bring family, friends and guests. More details are on the reservation form.