March Program Explores Aging Issues in California By Kim Rutledge
Aging is changing in California. Our state's over-6o population is projected to diversify and grow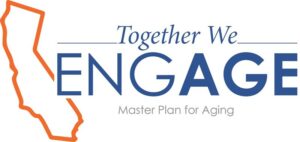 faster than any other age group. By 2030, 10.8 million Californians will be an older adult, making up one-quarter of the state's population. This aging population will be ethnically diverse and dominated by women.
In June 2019, Governor Gavin Newsom issued an executive order calling for the creation of a Master Plan for Aging. The executive order affirmed the priority of the health and well-being of older Californians and the need for policies that promote healthy aging. It also called for a "blueprint" for state government, local government, the private sector and philanthropy to prepare the state for the coming demographic changes and continue California's leadership in aging, disability and equity. The Master Plan covers five bold goals: housing for all ages and stages; health reimagined; inclusion and equity; caregiving that works; and affordable aging.
On Wednesday, March 24 at 7 p.m., AAUW Sacramento will host a panel discussion on the Master Plan for Aging and its five bold goals and 23 strategies to build a California for All Ages by 2030. The panel will focus on women's issues and equity considerations in the Master Plan.  We will be joined on Zoom by the following experts who helped shape the Master Plan. To register for the March program, go to the Eventbrite link here.
Amanda Lawrence, MPH, is the project director of the Master Plan for Aging at the California Department of Aging (CDA). Immediately prior to joining CDA, Lawrence served as strategist and program consultant on several projects at the California Department of Public Health, including the launch of the Department's Healthy Aging Initiative. Following graduation from the University of Wisconsin-Madison, a passion for health and social justice led her to earn a Master of Public Health degree and to work for international, community-based and healthcare nonprofits promoting health and equity, including the planning and implementation of community organizing efforts with and for older adults in Nicaragua.
Edie Yau is the director of diversity, equity and inclusion for the Alzheimer's Association, Northern California and Northern Nevada Chapter. She provides leadership and strategic direction in equity and inclusion in the pursuit of a world without Alzheimer's and all other dementia. She is responsible for developing culturally relevant programs to effectively reach underserved communities. Yau serves on the Executive Council for AARP California and is a member of the Master Plan for Aging Equity Advisory Committee. She has been in the field of aging for more than 20 years and has an MA in gerontology.
Ellen Schmeding is the chair of the California Commission on Aging and currently serves as the chief operating officer for St. Paul's Senior Services. Prior to joining St. Paul's in 2017, Schmeding worked with the County of San Diego for 30 years, most recently as the director of Aging & Independence Services (the Area Agency on Aging for San Diego County) as well as serving as the Public Administrator, Public Guardian and Public Conservator for San Diego County.
Kiara Harris is co-founder of Sistahs Aging with Grace & Elegance (https://sagesistahs.org). Founded in 2012, the mission is to empower and support African-American women with tools and resources they need to implement a plan of action that enhances their quality of life from midlife and throughout their senior years. Harris began her justice and equity work in 2015 at Sacramento City College in the Department of Student Equity and Success. Harris also served as a member of the Equity Work Group for the California Master Plan on Aging. She has more than 30 years of professional experience in executive-level communications and public policy-related positions. Harris owned H&H Ecoprises, an environmental and public health marketing and communications consulting firm in Oakland, CA for more than 10 years. She has a master's degree in public administration from Cal State East Bay and a bachelor's degree in mass media communication from Hampton University, a historically black college in Hampton, Virginia.
To register on Eventbrite for the March program, click here. We look forward to a fruitful discussion about this important project.