President's Message By Angela Scarlett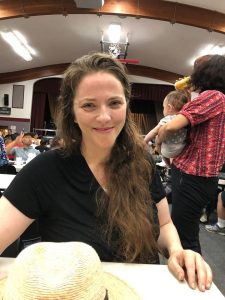 Dear Members,
As you read this article and the full newsletter, you will notice that we do not have a set program. Since our volunteer capacity is limited, we still need a dedicated program director.
Some folks have stepped up for critical events, including our stalwart Donna Holmes, for our Holiday Party on Dec. 10. During this event, we will conduct organizational business, including voting on bylaw changes proposed by the Strategic Planning Committee. Gloria Yost, a true jewel of a human being who wants to see this organization grow and succeed, drafted proposed changes, as were discussed at our September meeting. We are looking at four elected positions and five appointed directors-at-large. Please review the proposed changes linked here.
Secondly, our membership co-directors, Marty McKnew and Donna Holmes, are planning an informal membership event for new members at the beginning of November. If you feel out of the loop and want to reconnect, don't hesitate to reach out to Donna, Marty, or me. We also really want to see you in December!
Make sure you also vote in November's midterms!!!
Warmly,
Angela