Kevin Eldridge – Tech Trek  Supporter Extraordinaire By Gloria Yost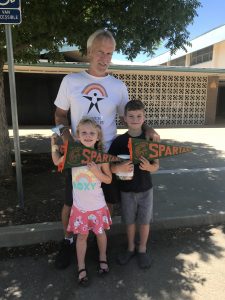 Recently retired counselor from Will C. Wood Middle School, Kevin Eldridge, has a long history with Sacramento Branch AAUW and Tech Trek.  In Kevin's words, "18 years ago, Liz Piazza came to Wood's front office, spoke to the principal and (told) him about the Tech Trek program – there was no looking back."  Will C. Wood girls have had the opportunity to attend our summer camps ever since.
Eldridge was born in Sacramento, and graduated from Luther Burbank High School and CSUS.  Prior to his education career, he has worked for the Sacramento Police Department and as a helicopter pilot in Alaska.  Of his 36 years in education, 32 years were spent as a language arts teacher and counselor at Wood.  His statement:
"As a schoolteacher and counselor, I have always been an advocate for opening our students' eyes to the many varied careers out there just waiting for them, and Tech Trek has been a golden opportunity promoting just that. Because of AAUW's commitment and generosity, many of our 7th grade girls over the years have had the incredible opportunity to spend a week away from home at a college campus, meet others, and immerse themselves in science, technology, and engineering. I have always felt blessed that our school was chosen to participate so long ago."
Kevin has assured us that his replacement, Michelle Carroll, is prepared to assist Will C. Wood girls as they apply for Tech Trek in the future.