Membership, Fellowship Themes of October Branch Ice Cream Social By Kim Rutledge
The AAUW Sacramento Branch Program Committee is busy finalizing details for our first in-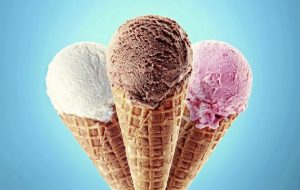 person program since early 2020. We will gather on Saturday, Oct. 23 at 12:30 p.m. at Eastern Oak Park, 3127 Eastern Ave., Sacramento, to reunite as a branch over ice cream from the Made in the Shade ice cream truck. Each branch member is encouraged to bring a potential new member. Every member who brings a guest will be entered into a raffle to win a fabulously cheesy prize.
We ask that all members contribute $8 to cover ice cream truck and rental fees. The $8 registration fee, payable by check to AAUW Sacramento, may be mailed to Cathy Locke (Cathy's address can be found in the Membership Directory) or paid via the registration link on Eventbrite. Note that Eventbrite payment adds an additional fee of $1.42, for a total charge of $9.42. You can find the registration on Eventbrite here.
The Sacramento branch board voted at its August meeting to require proof of COVID-19 vaccination for all in-person events during the 2021-22 program year. We are committed to the health and safety of all our members and plan to offer a mix of in-person and Zoom events in the coming year. If you are attending an in-person event, including the October ice cream social, please bring your photo ID and either your COVID-19 vaccination card or digital proof of vaccination. To download digital proof of vaccination to your cell phone, go to https://myvaccinerecord.cdph.ca.gov. The board also voted to follow current local and state guidance around masks. Because the October event will be held outdoors, we encourage attendees to wear masks, but they will not be required.
The Program Committee looks forward to reuniting with our members on Oct. 23 and appreciates everyone's ongoing participation during these unusual times.